How to build a bookdown by github pages?
2019-04-19
---
Publishing your notes and books via bookdown in the github is free and easy. Here is my note for me to record how to do it.
Deploy bookdown in Rstudio:

Build a new project for bookdown from R studio in the folder, such as "~/Dropbox/sjin-blog/bayeslm".

After your bookdown project is created, open '_bookdown.yml' Files, then in the last line add:

output_dir: "docs"

Drop down Build button, and click Build All; You will see a "docs" folder inside the folder of ~/Dropbox/sjin-blog/bayeslm. The content of the bookdown page is then inside the /bayeslm folder.

Possibly there is an error saying that packages.bib is not found. In this case, go to /bayeslm/index.Rmd file, you will see this line bibliography: [book.bib, packages.bib] at 7th line; check if both files are in the folder of /bayeslm. If there there is no packages.bib file in /bayeslm folder, delete it and leave bibliography: [book.bib] in index.Rmd. Alternative way is to create this missing file, such as copy book.bib and rename it to packages.bib if you do need this bibliography.

Create an empty reopsitory in Github:

Create a new repository, for example named as "bayeslm"

Push local files into github

Open a terminal, input the following codes:
$ cd ~/Dropbox/sjin-blog/bayeslm/docs
$ touch .nojekyll
$ cd ..
$ git add .
$ git commit -m "initial commit"
$ git remote add bayeslm https://github.com/yourusername/bayeslm.git
$ git push -u bayeslm master
Username for 'https://github.com': your user name
Password for 'https://yourusername@github.com': your password

Setup GitHub:

After pushing files to Github, go to repository's settings and under GitHub Pages change the Source as master branch /docs folder.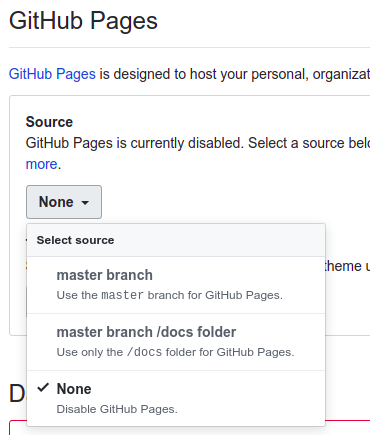 Within one minute, the website will be deployed at https://calebsjin.github.io/bayeslm/.